I have to confess something. Many, many years ago, when I was but an innocent college student, I tuned into MTV one night and saw the video for Rockwell's "Somebody's Watching Me."


Yes, it's lame yet oddly catchy. Yes, Rockwell wore boxer shorts in the shower. Yes, it never would've gone anywhere if Michael Jackson hadn't been talked into crooning the chorus, "I always feel like -- somebody's waaaaaaaatching meeeeee!" But that's not what haunts me.
What haunts me is, who the
hell
played the zombie mailman?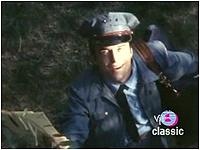 Because for a zombie mailman, he was pretty damn hot. I never thought necrophilia would interest me, but in this case I'd make an exception.