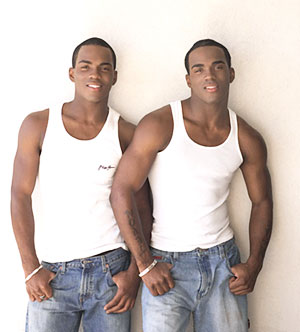 Actually there are two updates, since I didn't get to post the first one last week when it was reported. There were a series of recent burglaries in which the perpetrators would cut holes through the rooftops to gain entry. Among the businesses robbed was a Wawa convenience store (a regional chain that's MUCH better than 7-Eleven), in which cash, cigarettes and condoms were taken. The condom theft almost make sense in light of the news that the two men arrested last week in connection with some of the burglaries are twin brothers -- and have done some work in gay porn:

The Goffney twins are also the focus of numerous hardcore Internet gay-porn videos - some of which they star in together under the stage names Keyon and Teyon, according to several Internet sites that write about modeling and gay culture.

In "Marc and the Twins," which was distributed only online, the Goffneys are hanging out on the Las Vegas strip when they offer to audition for "Marc," a chiseled black porn star who happens to pass by.

The three take the "audition" to a seedy hotel room. Although "Marc" is the focus of the encounter, the twins can be seen rubbing each other's chests and getting cozy.

"Marc and the Twins" seems to be the most popular of the online porn films that star Taleon and Keyontyli. Their co-star in the film, Marc Williams, is a fairly big name in gay porn, according to Erik Schut, editorial director of Philadelphia-based TLA Entertainment Group.

The company's Web site, TLAVideo.com, is the nation's largest retailer of gay porn DVDs. To Schut's knowledge, the twins have not appeared in any porn films available on DVD, but he said if they had chosen to further their career in porn, "They could have been huge."
Meanwhile,
apparently Diana Ross isn't the only woman to have once fondled Lil' Kim's breast
. A local radio DJ who is known on the air as Golden Girl wrote a book called "Sex & Celebrities: The Truth, the Whole Truth, the Naked Truth," which includes her tale of a steamy encounter with Lil' Kim. The rapper spent a few months in a federal prison here; could it have been a conjugal visit? We don't know for sure as we have no video, but because we love you, here's Miss Ross' boob-bobbling moment at the MTV awards.